Award-Winning Finalist in the "Spirituality: Inspirational" category of The USA "Best Books 2011" Awards, sponsored by USA Book News

Excerpt page - The USA "Best Books 2011" Awards
Saturday, October 6, 2012 - A private Book Signing Awards Party was hosted by Mrs. Sandra Ginyard at her beautiful home in Upper Marlboro, Maryland.  Sandra is my friend who "sparked" the idea for me to write Seven Letters to Heaven!  It was a wonderful afternoon of fellowship, comraderie, and sharing stories of faith and prayers.  My special thanks to Sandra, who was a delightful hostess, and to her friends and family for a great experience which I will always remember.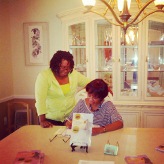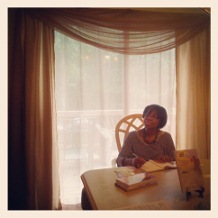 Sunday, May 1, 2011 — Book Interview with John Blake on The World Beat Experience,WHUR -World HD2, Washington, DC — at 2:00 p.m. 
Book Interview - WHUR-FM, Washington, D.C.
Saturday, May 5 - Reading at Flower Mart Honoring Jamaica 2012 - Washington National Cathedral.  flyer.
Jamaica Embassy Tent
Author
Book reading in St. Joseph's Chapel
Book Sales

 

 

 

Presentations - Jamaican Cuisine and Foodways

 

 

 

 

Floral Display - Anthuriums
Book Club Luncheon -On January 7, 2012, I was hosted by Annie Rhodes and the ladies of the Cover to Cover Book Club, in Derwood, Maryland, at their monthly luncheon meeting.  It was a wonderful afternoon with a gathering of some very special and interesting women, who raised thought-provoking topics relating to the book, and provided some very great comments.  Annie, who was a delightful hostess, laid out a feast of traditional holiday favorites and scrumptious desserts.  My thanks to the ladies of this club for a wonderful experience which I will always remember!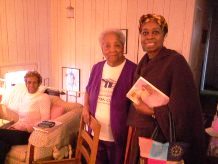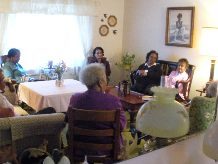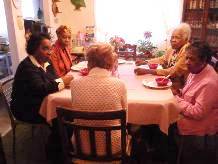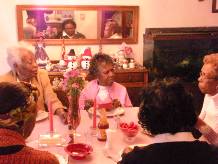 Book review
on Jamaica.com at: 
http://www.jamaicans.com/articles/bookreviews/SevenLetterstoHeaven.shtml
Luncheon - May 22, 2011 - Jerusalem Mt. Pleasant United Methodist Church, Rockville, Maryland.
It was a real pleasure to attend this luncheon hosted by members of the Book Club.
The event commenced with a very stirring and inspirational Sunday Service, followed by a wonderful gathering of about 10 very interesting women, headed by The Reverend Jane E. Wood, Pastor.
During the luncheon, we shared experiences of faith and other inspirational stories.
Club members also discussed their reactions and impressions of "
Seven Letters to Heaven
." Notably, the Pastor referred to two letters which impacted her the most—"
Please Fix That Car, Lord, and Find Me a Buyer
," and "
Take This Cup from Me
", as well as the closing quotation in the book
—"The Beauty of the rainbow after a storm heralds a bright, new beginning filled with hope and promise." —F"T"R,
from
Seven Letters to Heaven
.
The entire event was truly heart-warming and a wonderful experience for my husband and myself.
My sincere thanks to all the ladies of the Book Club, with special thanks to Annie Rhodes, and Yvonne Tatum (guest from St. Patrick's Church) for the roles they played in making the event possible.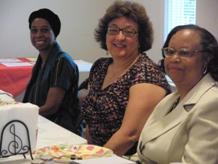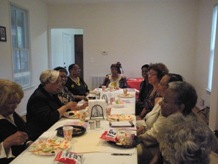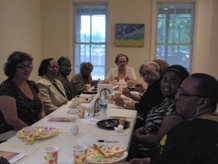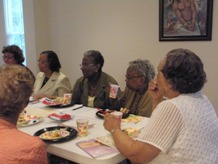 The Contest to share a situation when a prayer was answered is now closed, and we have a winner! (Name withheld by request).  Click here to read her winning story!  Winner will receive a free Dust Jacket Hardcover copy of Seven Letters To Heaven.  Thanks to those who participated!
Private book-signing and "meet & greet" open house in Olney on December 4, 2010: We had a wonderful evening with a few of our neighbors, which included an impromptu discussion of faith and prayers and the impact Seven Letters To Heaven was having on readers.  It was a delightful and rewarding event.  Thanks to our neighbors who took time out of their busy schedules to stop by.
The Official Book Launch & Signing
held at St. Patrick's Church on October 24
, was a success!  Rev. Msgr. Kevin T. Hart, Pastor, opened the event with prayers, and the Author read excerpts from her book.  Guests included Rev. Joseph Rogers, Parochial Vicar of St. Patrick's, and Mr. John Blake, Announcer/Host of The Caribbean Experience and the Worldbeat Experience, WHUR-FM, 96.3 MHZ.  A contribution was made to St. Patrick's Church from the book sales. See pictures below - photo credit: K.G. Robinson.