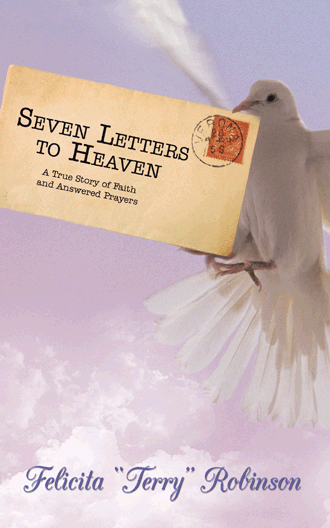 Both in the Spirituality: Inspirational category:
Excerpt - The 2012 International Book Awards

Excerpt page - The USA "Best Books 2011" Awards
Author:    Felicita "Terry" Robinson
Publisher: iUniverse, Inc.
Category: Non-Fiction
Format:    Hardcover, Softcover, Kindle/Sony Reader
ISBN:978-1-4502-2920-3 (sc)
ISBN:978-1-4502-2919-7 (dj)
ISBN:978-1-4502-2918-0 (ebk)
Press Release

**FOR IMMEDIATE RELEASE**
EDITORS: For review copies or interview requests, contact:
Author: Felicita Robinson
Tel: 301-318-0548
Email: FTRsevenletters@gmail.com
(When requesting a review copy, please provide a street address.)       
A Personal Story of Faith and Answered Prayers
Author shares letters of prayer written during her relocation to the U.S. as a spiritual guide to others
OLNEY, Md. – Author Felicita "Terry" Robinson found herself at a spiritual crossroads as she was faced  with the daunting task of uprooting herself and her family from their native Jamaica. For her, writing her prayers down gave her a sense of solace and the strength to accomplish her goals.
In her new book, Seven Letters to Heaven – A True Story of Faith and Answered Prayers (published by iUniverse), Robinson shares with readers seven of 21 personal letters of prayer she wrote as a way of communicating to God to seek His help with the small day-to-day problems she was experiencing. After looking back on her letters, she realized that not only were her prayers answered, her faith was also strengthened, leading her to wanting to share her experience with others.
 "I have always felt that there was something missing that I needed to do spiritually other than being a good Christian," said Robinson. "I realized that the actual publishing of my personal letters was the missing piece that I needed, not only to help others, but in order to help me grow spiritually."
Taking place during the last four months Robinson was in Jamaica prior to relocating to the U.S., Seven Letters to Heaven is about the trials and tribulations that came as a result of leaving home to start a new life, and the problems inherent with moving from one country to another. The book focuses on Robinson's written "letters of prayers" to God, sharing her day-to-day problems as well as poems and biblical quotations, and finding peace through her powerful faith.
The story behind Seven Letters to Heaven is a simple one; however the message is very powerful. This book will take readers on a walk of faith that shows God can truly become a real friend to anyone and most importantly, He does answer prayers, in His own way, in His own time and at His own will.
Seven Letters To Heaven is an Award-Winning Finalist in The 2012 International Book Awards, and the USA "Best Book 2011" Awards, both in the Spirituality: Inspirational category.
About The Author
Felicita D. Robinson, known as "Terry" was born and educated in Kingston, Jamaica. She became interested in writing short descriptions of places, people and things, as well as prose poems from age fourteen. Ms. Robinson relocated to the U.S. with her two children to join her husband, Gary, in 1984. She is an active member of St. Patrick's Church in Rockville, Md., where she sings soprano as a member of the contemporary choir. Ms. Robinson is also the author of The Dark Side of War, a poem published by the National Library of Poetry as a part of their Surrounded by Dreams edition, and has several prose poems to her credit. She retired from the World Bank in 2008 following 23 years of service. She resides with her husband in Olney, Md., and is currently working on a new novel. For more information, please visit www.SevenLettersToHeaven.com.
 iUniverse is a premier book publisher for emerging, self-published authors. For more information, please visit www.iuniverse.com.
###
---
Visit the Order Page on this site
Books and Kindle Edition also available at various online retailers including: